1. Most of what you'll design is already there
2. Ask the contractor
3. Work quickly
4. Precision for freedom
5. Don't try to do everything at once
6. Be clear and seek clarity
7. Use less references
8. Exercise
9. Take photos, write and draw a lot
10. It's okay to think of architecture as media
11. Be brave
12. Own books and make your own
13. You're already better than your heroes, so compete with them instead of the people around you
14. Wear a uniform
15. Put materials in the correct order
16. Consider the supply chain
17. Architecture lasts longer than you probably want
18. Design while the sun is still out
19. Don't talk shit
20. Listen to women
21. Nature is more beautiful than architecture
22. Don't get really good at anything
23. Things change, don't worry
NILE is a modernist design studio. We still pursue those antiquated lessons about structure, utility and beauty. But, we work in the present and maintain awareness between what's interesting and what's good. We should encourage freedom but always maintain structural clarity. Warm rules, loving neutrality and nice buildings. While we're all living together, we might as well live in utopias, oases and other beautiful, clear constructions.

NILE collaborates with so many great people, thank you all. Institutions, friends, corporations, graphic designers, artists, developers, architects, fabricators, landlords etc. The studio was started by Nile Greenberg. He sometimes teaches; he's been Adjunct Assistant Professor at Columbia University GSAPP. The forthcoming book, The Advanced School of Collective Feeling, will be published by Park Books in Winter 2020, co-authored by Nile and Matthew Kennedy. The book Two Sides of the Border, published by Lars Müller Publishers, will come out in Spring 2020

Before founding NILE, Nile Greenberg worked at MOS Architects, SO – IL, and Leong Leong in New York and Los Angeles. This past experience focused on cultural, public and residential architecture. He holds a Masters of Architecture from Columbia University. Ask if you have some questions.



– The Other House

– For immediate release: October 8, 2019

– Denver dreams of density, but wake up to fresh air

– An ADU doesn't have to feel like a tiny-house, in fact it can feel like a summer palace

– A patio house resembling Mies'

– Each interior room opens to the outside with corners made from glass

– Storage is architecture, floating above the doors. The kitchen is furniture, a large table instead of an island

– Photography, James Florio Photography, Mamiya RZ67




– Two Sides of the Border

– November 29, 2018–February 9, 2019, The Yale School of Architecture Gallery

– March 16, 2019 – April 25, 2019, Aedes Architecture Forum

– November 9, 2019 – December 6, 2019, El Paso Museum of Art

– Stop dividing the United States and Mexico into two separate nations, and instead study their shared histories, cultures, and economies.

– Projective Atlas. 13 studios across the US and Mexico use architecture and tools beyond architecture to contribute to the cross-cultural conversation. Together, the studios imagine new futures for U.S.-Mexico relations.

– Subjective Atlas. Iwan Baan traveled to 12 sites to document their environments and conditions. The photographs are his interpretation of these sites, and present a subjective view of places such as Nuevo Leon, Guanajuato, and Texas.

– Objective Atlas. By introducing maps from as early as 1765 we see how this supposed objectivity actually changes over time. The maps create a new objectivity, one in which the region is codified as a system of exchanges and inseparable landscapes.

– With Tatiana Bilbao, Iwan Baan, 22 Professors and 129 Students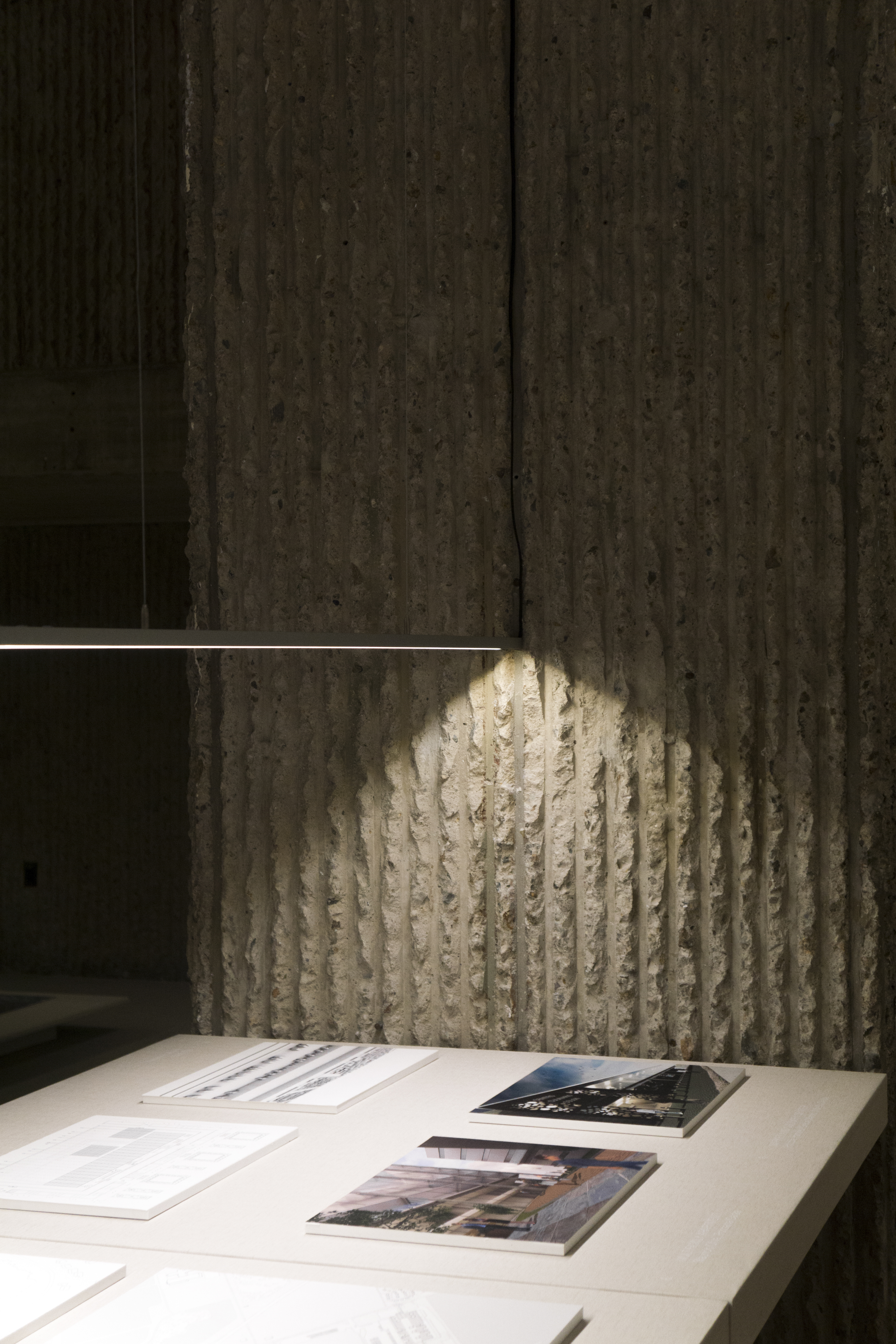 – The first retail location of a new fashion brand, 6397

– 90s soho aesthetics

– Raw industrial materials


1. Metallic films

2. Plaster wall
3. Exposed fluorescent lights

4. Velvet curtains

5. Mirror

6. Industrial timber

7. Steel rails

8. Gym floor rubber

9. Exposed tin ceilings
10. Grey wood floors
11. Aluminum facade


– Photography Naho Kabuta
– With Leong Leong
– Home Plinth

– The Storefront for Art and Architecture

– A plinth is a fundamental little act of architecture

– It extends to the horizon

– It separates you a few inches from the earth
– Our House

– An experiment in collective housing based on Modernist principles

– Daybeds and kitchens only

– Social, economic and ecologic sustainability

– Please maintain this house– a timber structure in the middle of a forest

– Take plenty of walks, it always helps